As a producer of different kinds of empty plastic packaging we sell wholesale plastic bottles for shampoo and shower gel bottles in quantity. Our assortment of various shapes and volumes together with wide decoration options allow choosing and customizing proper item to fit your products.
Bath and shower bottle prefers to be of standard shape due to obvious reason: it should be safe, stable and easy for handling. Our range of products consist of 9 series of plastic bottles most of which can be used as bottle for shampoo and shower gel. Being of classic forms, sustainable and of high quality they give many opportunities to create customized individual product.
Cylindrical or oval bottles for shampoo or shower, 200ml - 500ml
Cardo, Orbis, Rise and Torus families have a circle at the base and can be a good packaging decision. Being presented by different capacities they are of classic standard configuration widely used for hair care products and shower gel.
- Cardo 200 and 250 ml, Rise 220 ml, Orbis 200 and 250 ml, and Torus 250 ml are more suitable for products of time-to-time use as they have not big volumes. They better fit therapeutic or remedial hair care products or shower gel with extracts or scrub.
- The same series of bigger volumes (300-500 ml) is a widespread format of shampoo, balsam and shower gel bottle of daily use.
The same can be said about the series Costo and Gratus except they have oval at the base. A great advantage is that one can make a series of products in one uniform style by using different volumes within a family.
Square for men's cosmetics
Bottles Alto 200 ml and Quadro 200 ml have strict rectangular shape which gives possibilities to create man cosmetics packaging: shower gel bottle for man, shampoo and balsam.
500ml, 1 liter for professional hair care cosmetics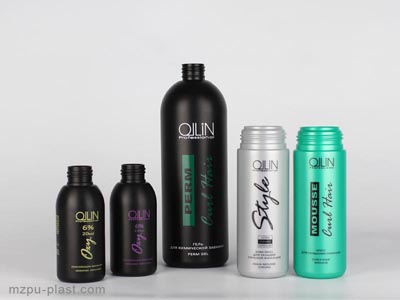 Plastic bottles for professional shampoo start from approx 500 ml and go up to 1 liter. Orbis 500 ml and Orbis 1 liter can fit salon hair care cosmetics and have optimal capacities to be used for professional products.
Decoration
All our plastic bottles realized wholesale can have different final decoration including color, soft-touch, metal or pearl covering, silk screening and other options by request. Standard neck GCMI 28/410 and 25/415 allow completing packaging with various closure and dispensing systems.