The modern market of household domestic chemicals is developing dynamically, offering consumers a variety of solutions in the field of caring for home, garden and personal goods. This sub-sector of the chemical industry is divided into several major categories:
- washing and care products for clothes and fabrics (washing liquids and powders, conditioners, bleaches and concentrates)
- cleaners and detergents – a large assortment of house cleaning goods, cleaning gels for various surfaces, liquids and gels for washing dishes, stain removers, pipes cleaners and more)
- adhesives
- repellents,
and other household chemicals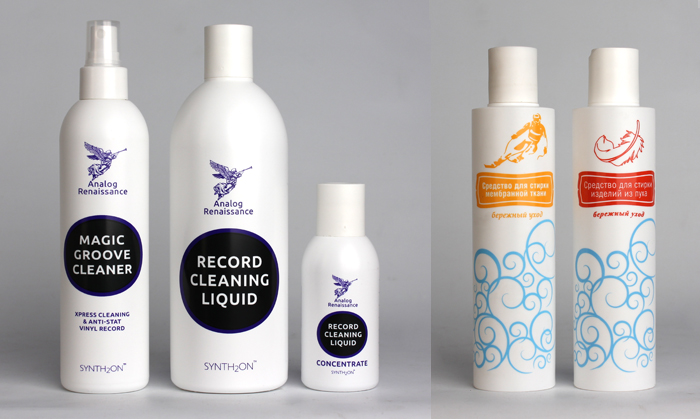 Packaging. Shape and configuration.  
Despite the large variety of cleaning and detergent products, packaging offers not so much options, and therefore it is difficult for manufacturers to differentiate their product on store shelves. Most of the products of the famous brands have their own custom form and design, although the configuration remains the same. For cleaning spray are used high, narrowed in the upper part bottles, with grooves for easy handling with packaging. The packaging is often completed with spray pumps and foaming triggers. Another common solution are standard plastic bottles with lids (flip-top, disc-top, screw cap and lift-up closures) and metering pumps, or nozzles with the direction spout. Very popular packaging is foamers, particularly for stain remover and cleaning products for furniture and carpets.
Our factory produces several series of plastic bottles of standard forms and different volumes, among which a good variety of configurations suitable for packaging household chemicals for various purposes.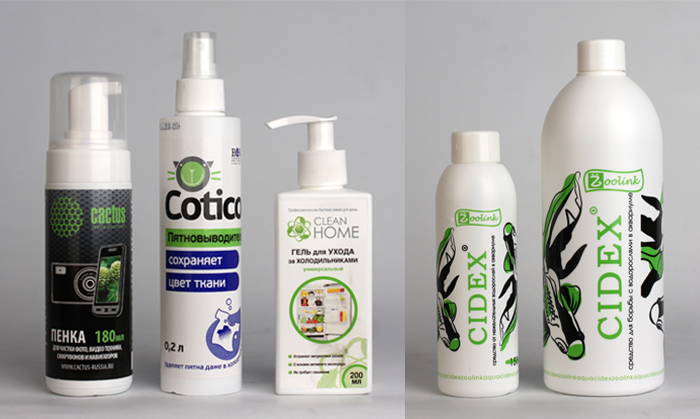 Materials for domestic chemistry packaging  
The main raw material for the production of larger range of household packaging is HDPE, although in recent years PET is gaining increasingly popular. Both materials are highly resistant to chemically aggressive environments, quite dense, but at the same time flexible, have high barrier properties, good functionality, and ensure airtight storage of the formulas. PET, in contrast to HDPE, a less flexible material, but gives more opportunities in terms of economic benefits and the issue of recycling.
MZPU has a significant range of packaging from HDPE and is actively developing the production of packaging solutions from PET analogue.  
Depending on the characteristics of the product, our packaging can be made according to different requirements of the formula; can feature a measuring strip or additional barrier properties.
Trends in packaging of household chemicals
The main global trends the development of packaging for this category of goods followed by, are environmental sustainability, development of new, more convenient packaging and dosing systems, a step toward reusable packaging and use recycled or biodegradable materials and materials based on vegetable raw materials (PLA). 
Good contribution to the packaging sustainability is usage of eco friendly raw materials in the production process. We offer our clients the ability to manufacture bottles made of biodegradable materials that will help the natural decay of plastic into safe components.